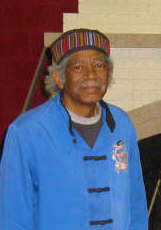 La Su Sunyata Saraswati, 1941 - 2014 (R.I.P)
Master Sunyata Saraswati was introduced to Yoga as a child by the great teacher Paramahansa Yogananda. During a visit to Sunyata's grandmothers house when he was a young boy. Sunyata was honored by the Yogi by being given a transmission of grace. Transmission refers to a Yogic belief that spiritual information can be passed-on without words. For more thatn ten years, Sunyata went to India almost every summer and studied all the aspects of Yoga. He furthered his study on Kriya Yoga, a form of meditation that is perhaps best known for its concentration on posture and conscience beathing techniques (e.g. with Satyananda Saraswati). In the 1960s Sunyata was introduced to Tai Chi as a way of corrrecting a problem that had developed in his meditational practices. Through another teacher, a Tibetan nun, Sunyata was introduced to White Crane Tai Chi Gung, Which has been a centrtal part of his life ever since. Tai Chi Qi Gong is a stepping stone to prepare one for other Yogic practices.
Sunyata has devoted over forty years to the study and the practices of Yoga and Chinese Gung Fu Systems (Hindu, Taoist and Egyptian). In 1978, he was given the title of Goswami in bahiar India (Lineage Holder of Babaji's Tantric Kriya Yoga), the title of Sifu from the Wu Chi Tao Temple (Hong Kong), Esoteric Tibetan Taoist Chi Gung, and Nui Gung and the Taoist 8 Animals internal Gung Fu. In April 200 he was awarded the title of Sigung (Grandmaster 7th degree black sash) from Dr. Larry Sanders, Sijo, for the development of Chi Lung Tao (Way of the Spirit Dragon) internal Gung Fu. On April 2003 he was awared the title of La Su (10th degree Black Sash). Sunyata now teaches private and semi-private classes in Tibetan and Taoist healing arts, Tai Chi Gung, and Spiritual Gung Fu from his home in North Carolina.